This month, WestJet continued to nail feel-cool holiday stuff, Neill Blomkamp launched a neat content making thing, Trump got an early library and Nick Offerman continues his dominance of whisky-related content marketing. It's all in our round-up of the best content marketing of June 2017.
Dodgeball Is Back
Ben Stiller has chosen to reprise his character from comedy classic Dodgeball—which is really just his character from Heavyweights, but we digress. Along for the ride are actors Vince Vaughn, Justin Long and Christine Taylor, and they want you to donate some cash to the Stiller Foundation (which supports impoverished children with educational opportunities) for a grand prize of: a dodgeball game! With either the Average Joes or the Purple Cobras. Which is pretty cool. And as much money as the Stiller Foundation has raised over the years, we bet that this new content marketing route will net them their biggest haul yet.
WestJet's Father's Day Surprise
We've been long-time unapologetic fans of WestJet's constant (and generally sentimental) content marketing. And we don't feel bad about that at all because if you look at their numbers on social media, they have plenty of other fans. Tens of thousands. This latest piece of content marketing, which brings together a family staying at Ronald McDonald House Toronto and their family and friends from Clarenville, Newfoundland, is a tear jerker. And it seems many WestJet Facebook fans are indeed shedding tears. But we'd be interested in knowing how much money this ends up raising for Ronald McDonald House.
Neill Blomkamp Puts a Free Movie on YouTube
Are you one of those people who thinks Hollywood can't make anything original? Well, we humbly submit that you stop what you're doing and watch this twenty-minute short film from the director of District 9, Neill Blomkamp. Starring Sigourney Weaver, Rakka is interesting, original, and free. It's also content marketing for Blomkamp's new venture, Oats Studios. Oats Studios will focus on weird and non-conventional short films, which will all be released online for free. However, they are selling something. For around $5.50, you can buy film assets like 3D models, shots, sound mixes, and other pieces of the film over Steam. Why? Blomkamp thinks there are enough creative people out there willing to take the content, remake it, and produce cool stuff. And they're willing to license stuff too. We think it's the coolest thing going on in filmmaking today.
Nick Offerman Celebrates Fathers Day With Lagavulin Again
Scotch distillers seem to have a taste for content marketing. Exhibit A: Anthony Bourdain doing masterful content marketing for the Balvenie. And Nick Offerman's been doing stuff for Lagavulin ever since he realised he could be paid for all the promoting he was already doing. That said, Offerman promoted this year's Father's Day video via an AMA on Reddit, where he is very popular and willing to spend time with thousands of fans.
RentLogic & Landlord Watch
Ever wanted to review your landlord before you rent? With a site that's sort of like Yelp for landlords, but less subjective? Well, you're in luck. RentLogic, a site that started in New York, is coming to Toronto this summer. You can look up both apartments to rent but also see what problems they've had and when they had them. To promote their entry into the market, RentLogic is powering Landlord Watch, a site that lists the 100 worst landlords in Toronto based on the number of violations they get from the City of Toronto. It's a pretty neat way to practice activism in a meaningful way and promote RentLogic's business.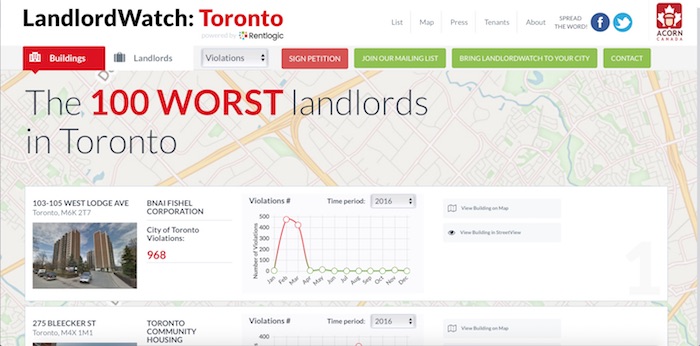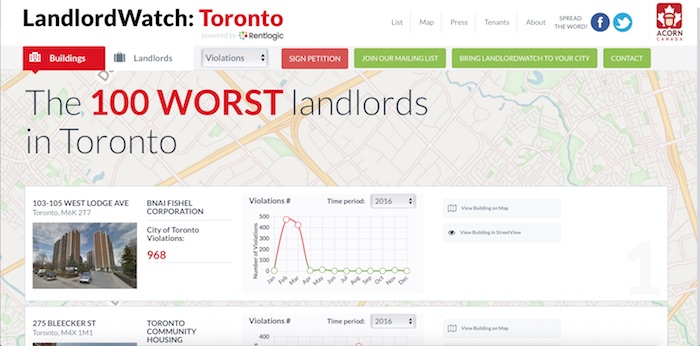 The Donald Trump Presidential Library, by the Daily Show
The Daily Show is no stranger to content marketing; see their bestselling textbook, America. But a new generation, a new host, and a new president means a new hook, and that new hook was the Donald Trump Presidential Library, a fake Presidential Library in midtown Manhattan for just one weekend. A large section was devoted to tweets, which were displayed along with "curators notes" explaining the artistic intent behind the tweets, with sections for "Deleted But Not Forgotten" and "Concern For The Integrity Of The American Presidency", which are all his birther tweets.