Jeremy Clarkson, who got the boot from the Beeb after delivering one punch too many, recently debuted his much-touted new show, The Grand Tour, on Amazon Prime.  One thing viewers noticed in the early episodes? Clarkson was sporting more bracelets than Steven Tyler.
Midlife fashion crisis? Nope, product placement by the people footing the bill for the show. But is that the real reason Amazon Prime is now all-in the content business?
Let's start with a staggering fact: Amazon's digital library is more than twice as large as that of Netflix. Amazon Prime Video has 20,386 titles, split between 1,981 TV shows and 18,405 movies. Netflix has a comparatively scant 7,008 titles, which consist of 2,445 TV shows and 4,563 movies.
So Amazon is a content king.  But not to do product placement but to boost Prime, which is all about free shipping. Freed of the shackles of shipping charges, Prime customers can place as many orders as they want – for just about anything they want. Need a 4K TV tomorrow? No problem.  A tube of toothpaste this afternoon? Done.
Prime wins Amazon millions of dependable customers who buy more, and more often. Amazon is notoriously cagy with numbers, but in excess of 50 million people worldwide are Amazon Prime customers. For $99, you get "free" two-day shipping. That's the big incentive to buy Prime and that's why most (about 80%) of customers say they have Prime. In fact, Amazon offers two-hour delivery in 29 American cities (called Prime Now).
But that's not all Prime customers get. They also get unlimited movie streaming, access to over a million ebooks, and unlimited video streaming from Amazon's aforementioned massive video library. If customers really want they can get access to Amazon's video library at a monthly rate comparable to Netflix. But Prime is obviously the better deal.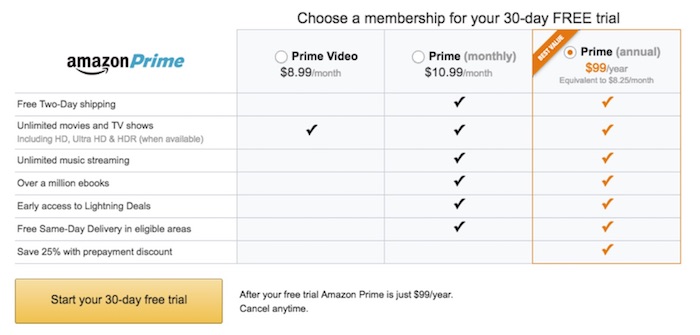 It's no real surprise that Amazon is using content to sweeten Prime. After all, before we thought of Amazon as the web's biggest store, we thought of them as the world's biggest bookstore. Selling content has always been a big part of Amazon's business and a big part of how customers still see them. It's only natural that it remains part of Amazon's identity as they pitch Prime to customers.
It's interesting to note that Prime – and its associated music and video streaming – is a money-pit for Amazon. Two-day shipping is very expensive. Two-hour shipping is brutally difficult to execute, and even harder on the environment. Content licenses cost big money. The entire reason Prime exists is because it wins Amazon repeat customers—over 50% of Amazon purchases come from Prime customers. So it's easy to see why Amazon is willing to invest in Prime, and go head-to-head with Netflix.
Many still see Netflix as providing better value because it provides more original content they can't get anywhere else. Netflix released an estimated 126 original films and TV shows in 2016. Amazon has nowhere near that number, but they're certainly spending money to move in that direction. In fact, their series Transparent became the first show produced by a streaming service to win a Golden Globe for Best Series. And it's why they willing to indulge the notorious former Top Gear host.
Make no mistake, most new Prime conversions are because of free shipping. But for potential customers sitting on the cusp? Those who wonder if they'll buy enough to justify $99 worth of shipping in a year, those who can wait for online purchases, or those more willing to buy from a variety of online markets?
Content can seal the deal.
Photo via Jalopnik