This month: Hillary goads Donald Trump, Smith & Forge Cider makes a weightlifter look old, and the Rock is on YouTube. Oh, and McDonald's learns a valuable lesson about not trusting people on the internet.
Trump Yourself
Hillary has a novel way of using Donald Trump's words against him. Her site, Trump Yourself, helps her supporters create anti-trump avatars by overlaying their Facebook profile pictures with Trump quotes. We think the results speak for themselves.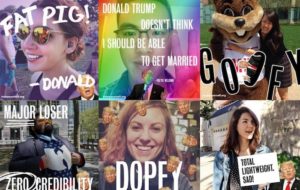 Samsung School of Rio
Lots of Olympic marketing gets pretty maudlin pretty fast. That's part of the reason we like this little video Samsung put together, which features British comedian Jack Whitehall (who deserves a bigger North American audience) learning to cycle from Olympians Sir Bradley Wiggins & Becky James. Why? Because Olympic-level cyclists know about stamina and Samsung wants to make a point about their battery life. Oh, and there's a whole series of these videos for your viewing pleasure.
The Rock Teams Up With YouTube
The Rock launched his brand-new YouTube channel with a video featuring his journey to the 'YouTube' factory, a secret studio under a volcano where all the hit YouTube series are made. He teamed up with major YouTube stars like Grace Helbig, Roman Atwood, King Bach, Markiplier, and Gigi Gorgeous to make it happen. Fun fact: there really is YouTube studio space, and if you produce enough views, you can use the space for free.
Smith & Forge Cider Inspires Old Man Strength
How should Smith & Forge promote their brand of hard cider? Well, we aren't sure how they arrived at this answer, but it's pretty entertaining: they got a Hollywood special effects artists to make a Junior Olympic weightlifter look like an old man, sent him to LA's famous Muscle Beach, and had him blow people's minds with massive feats of strength. A million views later, we think a few more people know about Smith & Forge Cider.
McDonald's Screws Up
Know how engagement can go wrong? When you let people on the Internet do whatever they want with your brand. McDonald's New Zealand learned this the hard way with their Create Your Taste competition, which they had to cancel. Their site let you customize your burger, create a little image, and name your creation, but instead of creating normal burgers people made outlandish or offensive burgers. The Chive collected a bunch of pictures (warning: offensive and gross) before the contest was called off; we like number sixteen, "the Nihilist".